2020 NZ Open Tournament 
21/22 November at Wanxin Zhou's furniture shop in Otahuhu, Auckland
Saturday 
Considering Covid 19 uncertainties, 18 entries was probably reasonable, more would have been nicer but understandably there was only one, Mitsutaka Sato, from outside of Auckland - Many thanks for coming and making it truly a national event Mitsutaka. There were also a couple of people we had not seen for some years and some new faces - I hope you enjoyed the tournament and please come again! 
Registration on Saturday morning went smoothly and did not delay the start as it sometimes does (an advantage of low numbers I suppose). While the shop is definitely overcrowded, everyone found spots to play and it was not the problem I had feared. The weather was good too so the fork hoist and a couple of tables went outside, which helped. By 9:30ish everyone was playing. For my first game we started playing outside, but it was too hot and bright so we came back in with the others.
Wanxin Zhou, our host, cooked us lunch - eggs, ham and fried bread accompanied with salad, more bread and various spreads. Tasty and no one went hungry.  
After two rounds Richard Luo, Juhua Zhou, Kelvin Li and Longyang Li were undefeated. In round three, the last for the day, young Kelvin beat Richard and Longyang beat Juhau - tomorrow we will have youth vs experience and the winner will have to hang on one further round to claim the trophy.
Wanxin had been busy again and had dinner ready for the people staying on. Relaxing over a meal, with a beer or two - It's a very good way to end a day's tournament playing. Many thanks for the food and hospitality Zhou! After dinner, pair go. Sadly I think I lost our game, overthinking what should have been a simple move and consequently putting us behind in a capture race - for a while I really thought we had them!) 
Sunday
We were down two people, but one had texted and given his apologies and the other was just late.. Better than usual.
Longyang Li prevailed in the battle for top place. Chasing him are Richard Luo, Gang Du, Zixiand Lei and Kelvin. Can Longyang stay on top? We'll find out after lunch and the AGM.
Wanxin has made lunch again, very nice, Thanks!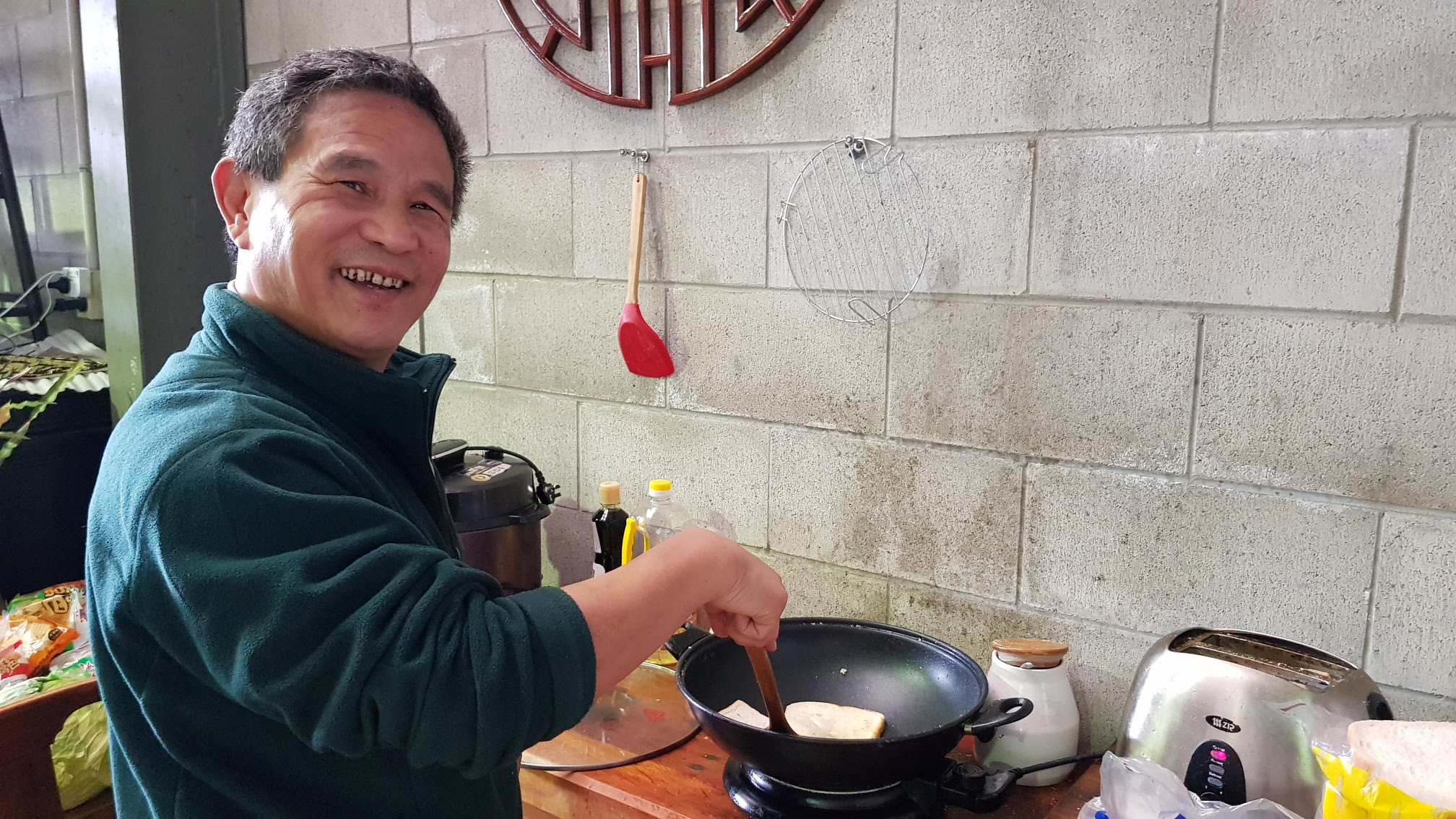 Now for the AGM...
I don't like AGM's much, but this one was better than usual - though Kevin Lui and I were re-elected president and secretary again of course. Our treasurer, Du Gang, is new. Thanks for putting your hand up Du, we need to get together soon and I'll hand over the accounts. Kevin Lui came for the AGM and gave a good president's address. He says he will write it up and send me the text... I presented the accounts and  the bookshop report. Getting the accounts right has taken me a while - They are on a spread sheet and most of the posting is automated - but I forget the details and have to work it out again every year. For example, opening cash $12, closing cash $6 - how should I post the $6 change?  Eventually I realised I had to reduce sales by $6 - the cash was counted as a sale last year, and I banked it this year. It should not be counted as a sale again (the rest of the money is sales.) Still my balance sheet did not balance. Essentially a balance sheet is simple - What you start with, plus changes, should equal what you finish with… Mine didn't equal. I found 17 cents in the stock. The purchase cost $1641, but the unit costs * quantities $1641.17 because of rounding. I can live with that, but I was still out by 9.20. Finally on Saturday morning I found it. The opening cash on hand amount was doubled. How did that happen? I reprinted a perfectly balancing set of accounts and felt I should have been cheered when I presented them - but no-one seemed much interested :-(
Kevin finished the AGM making a plea for help with his Go school and several people offered to help. I hope it works out well, it's great to have a school running.
Let's play! One round left, at least 5 people in contention...
Longyang could not keep up his form, lost, and we ended up with four people all having four wins. Ranking was by 'Direct Contest' (DC) then SOS - as advertised in the tournament invitation. Richard Luo had 2 points DC, Du Gang one. Longyang and Jerry zero. We have a winner - but why? After a bit I worked it out. Within the top 4, Richard and Du had one win each against the others while Longyang and Jerry had no wins so Richard and Du are ahead. Richard's win was against Du - so he is top. It's defensible, which is all one can ask of a system to split ties,
Prizegiving - We are early as everything went a bit quicker than scheduled. Richard takes home the trophy - a rather nice set of bowls and stones he can hold until next year's tournament. We also gave trophies to be kept - and I have to recommend the Trophy Centre in East Tamaki where I got them. From when I walked in until when I had engraved trophies in hand was just 3 hours, and the price was very reasonable too. Later I took our NZ champion trophy for engraving - and they replaced the main plate, which was hard to read and had started to corrode, free of charge! Fantastic.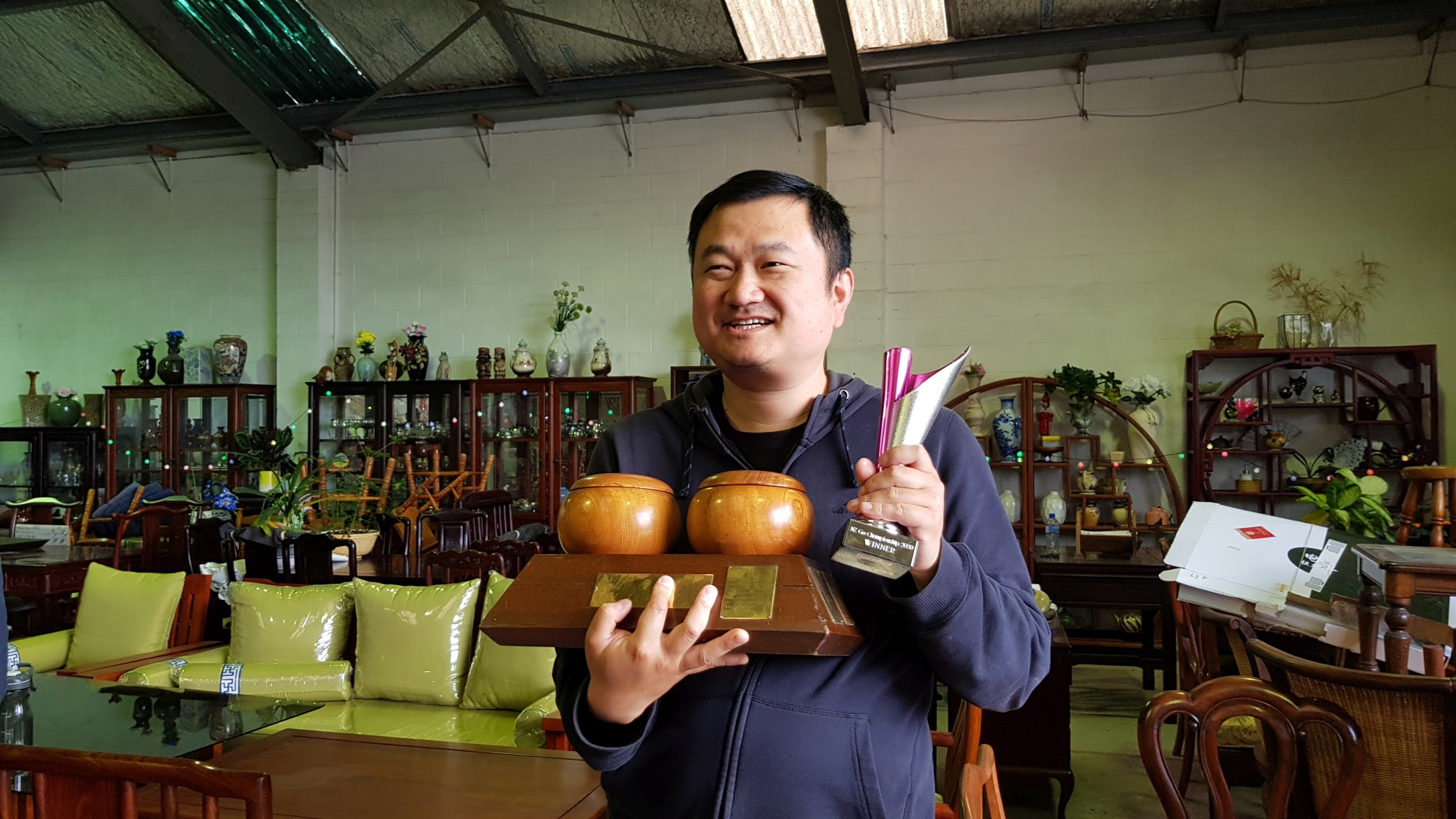 Richard Luo, 2020 Champion

2020 Champions
We also had the 'Go Kichi' trophy on display, which Barry Phease has relinquished and is now back in Auckland. This is a very nice Goban donated by Ray Tomes 1988 to be a challenge trophy. The idea is if you want the trophy you challenge the current holder. They must accept the challenge within a reasonable period. When the challenge takes place you play a best of five series and, hopefully, walk away with the trophy. You can then be challenged in turn and must defend the trophy in order to keep holding it. (If you win the NZ Championship and hold the Go Kichi trophy you have the complete set - board and stones :-)   We will probably run a special tournament to find a new holder so challenges can begin again. 
Sunday is Go club day so most people stayed and stared playing again. I hung around for a bit watching then headed home to relax and attend to a few chores... Thanks everyone for making the tournament easy and fun. Special thanks to Wanxin for providing the venue, lunches and dinner.
Results
| | | | | | | | | | | | | |
| --- | --- | --- | --- | --- | --- | --- | --- | --- | --- | --- | --- | --- |
| No  | Pl  | Name  | Rank  | NbW  | R 1  | R 2  | R 3  | R 4  | R 5  | NBW | DC | SOS |
| 1  | 1  | Luo Richard | 3D | 4 | 8+ | 2+ | 7- | 6+ | 14+ | 4 | 2 | 15 |
| 2  | 2  | Du Gang | 4D | 4 | 4+ | 1- | 10+ | 5+ | 3+ | 4 | 1 | 17 |
| 3  | 3  | Li Longyang | 5D | 4 | 12+ | 10+ | 5+ | 7+ | 2- | 4 | 0 | 14 |
| 4  |   | Lei Zixiang (Jerry) | 4D | 4 | 2- | 13+ | 8+ | 14+ | 7+ | 4 | 0 | 14 |
| 5  | 5  | Zhou Juhua | 5D | 3 | 11+ | 6+ | 3- | 2- | 12+ | 3 | 4 | 15 |
| 6  | 6  | Lin Weiran | 4D | 3 | 15+ | 5- | 9+ | 1- | 11+ | 3 | 3 | 14 |
| 7  | 7  | Li Kelvin | 3D | 3 | 17+ | 16+ | 1+ | 3- | 4- | 3 | 2 | 13 |
| 8  | 8  | Kim Jinhyeon | 4D | 3 | 1- | 18+ | 4- | 10+ | 13+ | 3 | 1 | 12 |
| 9  | 9  | Li Hanping | 4D | 3 | 16- | 12+ | 6- | 11+ | 17+ | 3 | 0 | 8 |
| 10  | 10  | Kim Jae | 3D | 2 | 13+ | 3- | 2- | 8- | 16+ | 2 | 5 | 14 |
| 11  | 11  | Zhou Chaoqun | 4D | 2 | 5- | 14+ | 15+ | 9- | 6- | 2 | 4 | 13 |
| 12  | 12  | Fan Ray (Xiayang | 1D | 2 | 3- | 9- | 18+ | 16+ | 5- | 2 | 3 | 11 |
| 13  |   | Grierson Colin | 4D | 2 | 10- | 4- | 17+ | 15+ | 8- | 2 | 3 | 11 |
| 14  |   | Wan Don | 4D | 2 | 18+ | 11- | 16+ | 4- | 1- | 2 | 3 | 11 |
| 15  | 15  | Kim Jeong Min | 4D | 2 | 6- | 17+ | 11- | 13- | 0+ | 2 | 0 | 7 |
| 16  | 16  | Mitsutaka Sato | 2D | 1 | 9+ | 7- | 14- | 12- | 10- | 1 | 0 | 12 |
| 17  | 17  | Xin Selwyn | 2D | 0 | 7- | 15- | 13- | 0- | 9- | 0 | 1 | 10 |
| 18  | 18  | Roongnirandon Punn | 1D | 0 | 14- | 8- | 12- | 0- | 0- | 0 | 0 | 7 |