The 15th Korea Prime Minister's Cup 2020
A big congratulation to the Korean Baduk Association for devising a way, in this Covid plagued world, of playing the 15th Korea Prime Minister's Cup!
The tournament will be played online, with the first games scheduled for August 3.  Details are here http://kpmc.kbaduk.or.kr/eng/intro/cong.asp  though it looks like some of the information has not been updated since the change to an online format!
Chahine Koleejan is NZ's representative at the 15th KPMC
There are 61 players participating.  New Zealand's representative will be Chahine Koleejan (5D) a 27-year old data scientist currently living in Japan.  He was NZ Go Champion in 2014 and 2015 (jointly) and finished 18th at the 2016 World Amateur Go Championship. 
The KPMC website in their Intro/Summary is calling this a 6 round Swiss tournament but we have to assume this has not been updated since the change to an online tournament.  
Groups C and D in the Americas (+Oceania!) pool of the qualifying rounds.
In their Schedule there are 3 qualifying rounds (double elimination).  In these first rounds players play in pools of 4 against players of their own region.  One country in each pool is seeded into the pool based on their country's results from the previous KPMC tournaments and the other players from the region are randomly drawn into the pools.  NZ and Australia have been grouped with the Americas. There are 4 pools of 4 players in this group and both NZ (D Group) and Australia (C Group) are top seeds in their pool. 
A double elimination is a little different from a typical round robin within your pool, where all players play each other (like the world cup football tournament).
How double elimination works in the qualifying rounds
NZ will play either Equador, Chile or Uraguay in the first round.   If Chahine wins he will play the winner of the other game in his pool.  If he also wins that game he progresses to the main tournament.  If he loses then he gets another change to qualify by playing the winner of the game between the first round losers in his pool .  This is an interesting format that avoids tied results that can occur in round robins.
The knockout rounds of the tournament - half of each round is played per day
These qualifying rounds will be followed by what looks like a knockout tournament for the last 32 players with the top 8 nations surviving from the qualifying rounds seeded.
Chahine will have his first qualifying game on 4 August at 8pm (GMT-4), (12 noon on 5 August NZST).
Games will be played on Tygem so if you want to see the games live get yourself an account http://www.tygemgo.com/   Chahine's username on Tygem is "Chahine" so you'll be able to see which game he is playing.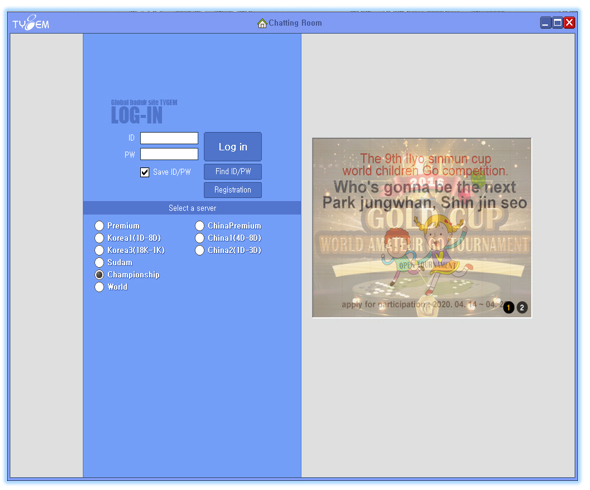 The login page of the Tygem server showing the championship room selected
It looks like there will be a Championship room on the Tygem login page so you will need to select that room to see the games being played.