2019 Auckland Open Report - November 23 - 24
We started the organisation a bit late, but things came together quite well - many thanks to Kevin Liu, Lydia and Sylvain for the work they did and to Danny Wu, for use of rooms in his community center in New Lynn. 
As the entries came in it was clear the tournament would be a lot different to previous years. We have a new venue, in New Lynn - on the other side of Auckland. Some of our regular players can not come due to work commitments (shouldn't life be getting easier as we get older and more settled?) but there are a lot of new names and it's clear we will have three divisions - Dan grade, strong Kyu and beginners, each with a reasonable number of players. Also we have a Yum Char lunch on Sunday and a party, with dinner, on Saturday night at Zhou's shop to look forward to.
We decided to change the prizes from cash - nice but not very memorable - to trophies, and Lydia found some really nice ones for a price that did not break the bank. Sylvain volunteered to look after the Saturday lunch and the snacks. I took on the draw - as usual - and Kevin the running of the beginner's division. We are set.
This was our schedule:
Saturday

Divisions 1 & 2

09:00  - 09:30

Registration

09:30  - 11:10

Round 1

11:10  - 11:20

Break

11:20  - 13:00

Round 2

13:00  - 14:00 

Lunch

14:00  - 15:40

Round 3

15:40  - 15:50

Break

15:50  - 17:30

Round 4
Sunday

Divisions 1 & 2

Division 3

09:30  - 11:10

Round 5 

14:00 - 14:20

Round 1

11:10  - 12:00

AGM

14:20 - 14:40

Round 2

12:00  - 13:00

Lunch, yum char

14:40 - 15:00

Round 3

13:00  - 14:40

Round 6

15:00 - 15:20

Round 4

14:40  - 14:50

Break

15:20 - 15:40

Round 5

14:50  - 16:30

Round 7

15:40 - 16:00

Round 6

16:30  - 17:00

Break (Except for the organisers)

16:00 - 16:20

Round 7

17:00

Prizegiving

 

 

17:30

Finish

 
 
Saturday 
I arrived early and set up shop. Despite having most people pre-registered and entered into the tournament draws, registration still took too long. We need to rethink this at our next big tournament. Play finally got underway rather later than I had hoped. Fortunately everyone completed their games in reasonable time and we gained a bit back on the schedule, I also won my game and was feeling a bit better :-) The day went well and finished close to the scheduled time. In the open division Zixang Lei was the only undefeated player. Four others had just one loss - Gang Du, Moses Fan, Wengang Zhang and myself. Will Zixang be able to stay on top tomorrow? In division 2 Jae Kim and Ted Fuller were undefeated, Danny Zhou and Konstantin Kondaurov chasing with just one loss.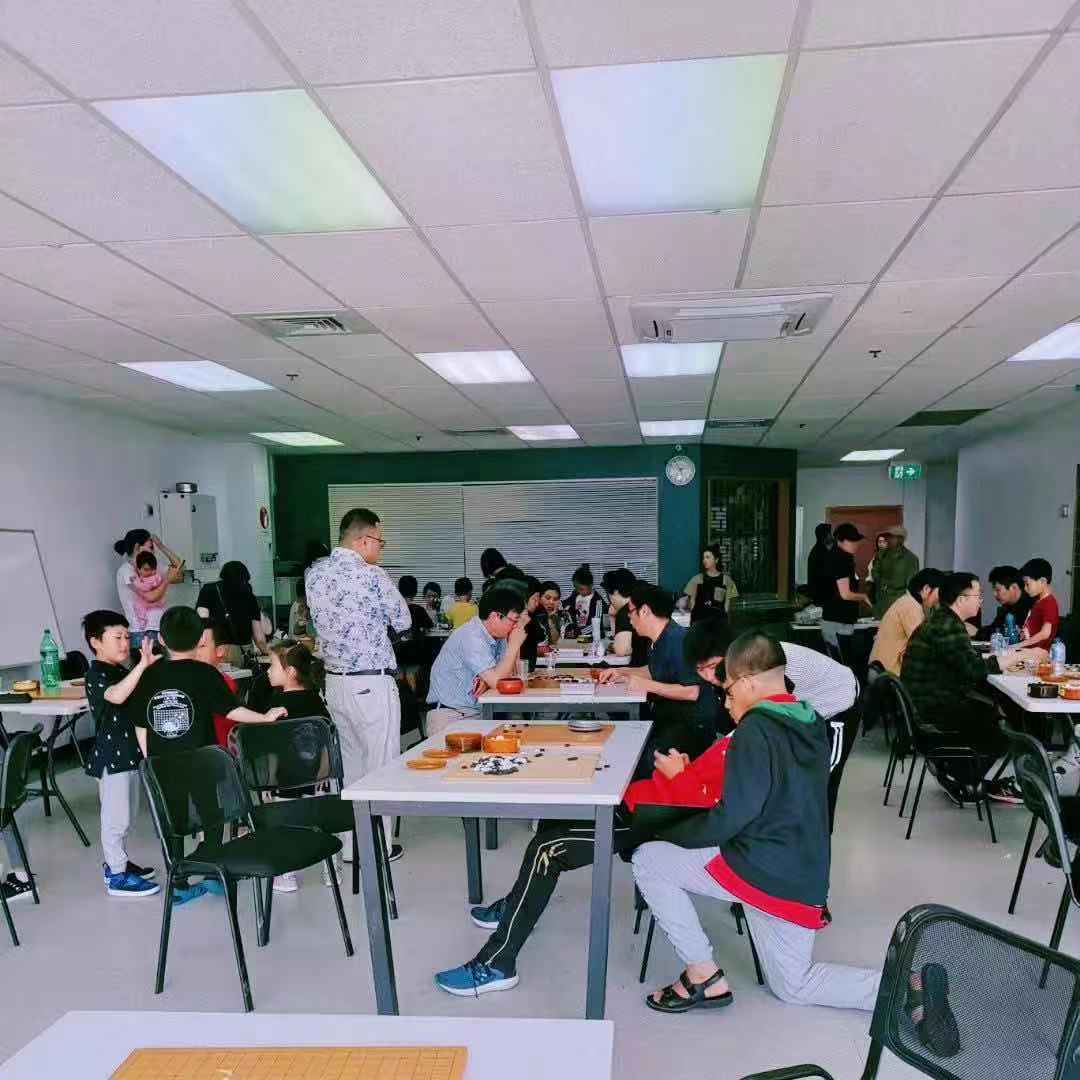 David Zhou put on a very good dinner at the Saturday party and some of the people who could not make the tournament came along. Many toasts were made: To NZ Go, To friendship, To…  It was a good night. Thanks Zhou!
Dinner (pizzas still to come)
Kevin playing simultaneous games (and doing pretty well...)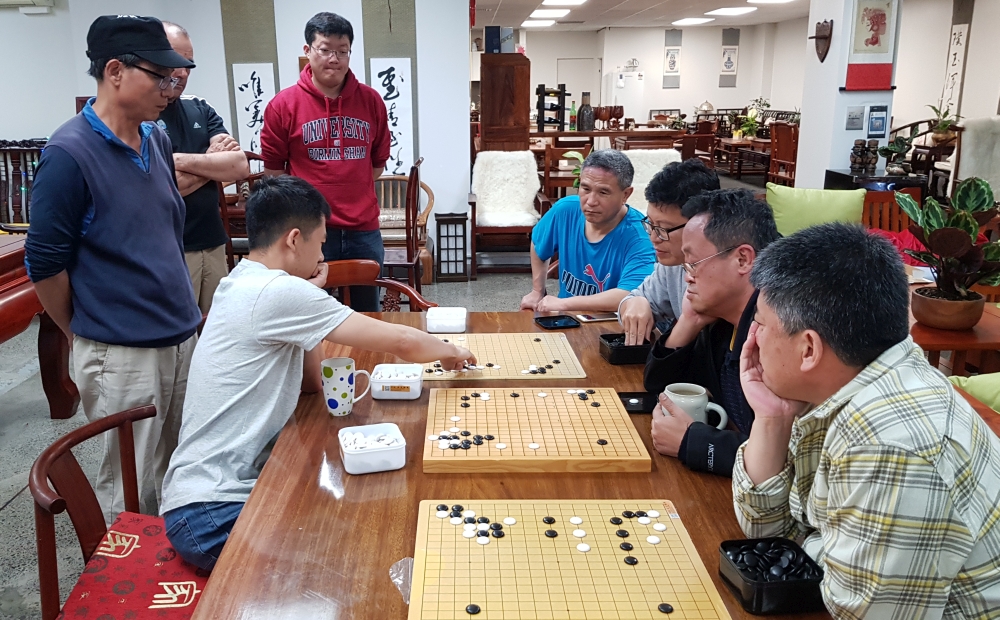 Sunday
A much smoother start today. Played round 5 (Zixang won again, Jae beat Ted) then had the Auckland club AGM. Congratulations David Zhou for taking up the President's role. Colin Grierson secretary and Sylvain Gantois treasurer. The general committee members are Konstantin Kondaurov and Kevin Yang. Thanks to all. AGM over, most of us headed to the Elegance Chinese restaurant for a yum char lunch.
After lunch things got busy again as the beginner's tournament started, Kevin looked after this - and did it well - but 17 children and their parents arriving and confirming their registration takes a while. They took a room downstairs separate to the area the Open and Kyu divisions were playing in so things quieted down eventually and we were underway again. Downstairs Kevin was a busy man with 7 rounds - in less than two and a half hours!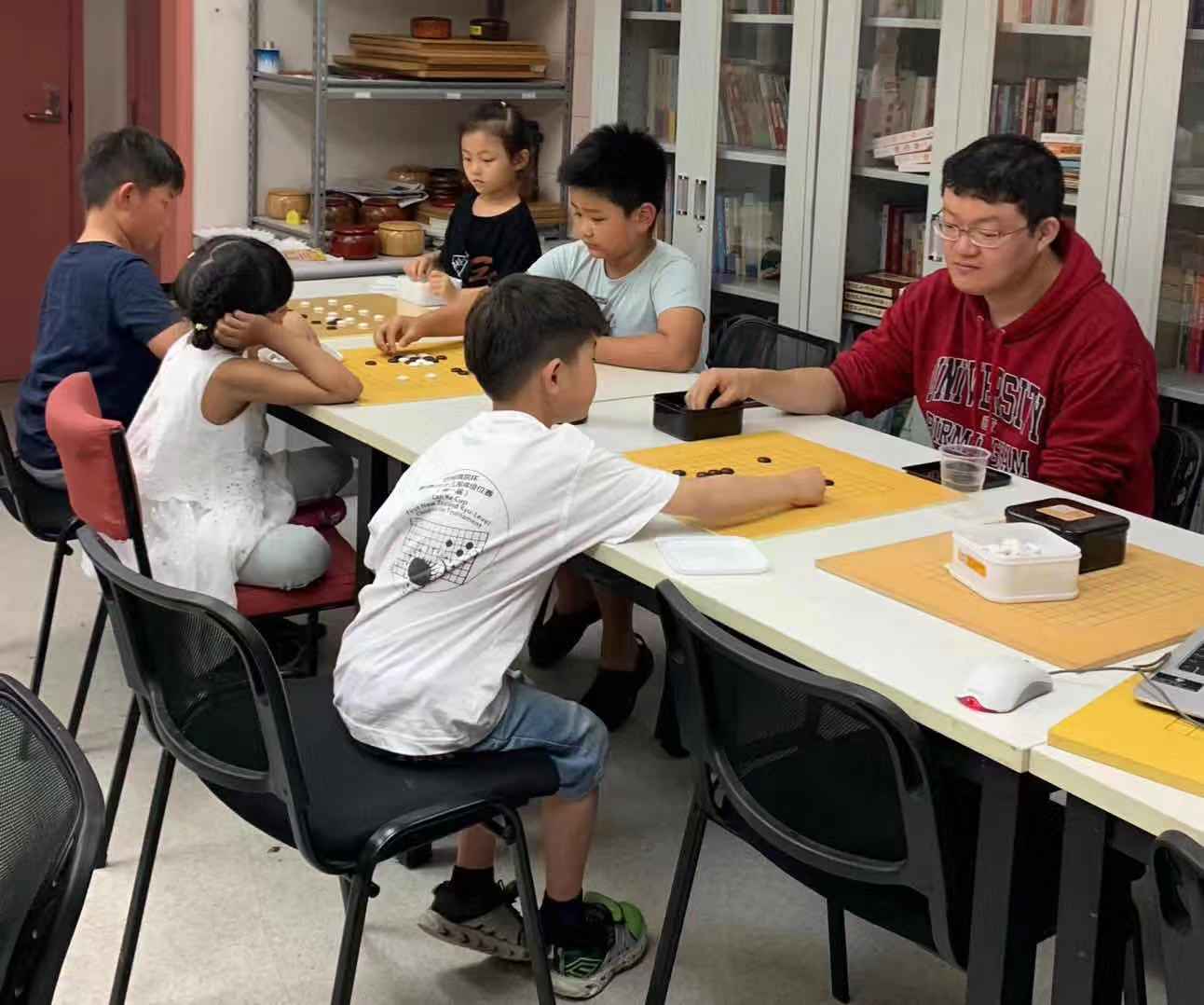 In the Open division Zixang Lei lost round 6 to Don Wan but won the last round so ended tied for first place on number of wins. However by SOS he was ahead by a point and champion! Du Gang was second, also with six wins and Moses Fan pipped Don Wan for third place by SOS.
In division 2 Jae Kim had kept winning. Danny Zhou had six wins for second and Konstantin Kondaurov five wins for third.
In division 3 Eric Chen and Ziyao Wang had 6 wins each and the same SOS. However in the game where they met, Eric had prevailed. So he was champion and Ziyao Wang a very close second. Five people: Jiayu Zhang, Doreen Li, Yudi Wu, Lucas Li and Gary Cui had five wins, but Jiayu was ahead on SOS so he took third place.
Prize giving went well, and the trophies looked great when we handed them out. 
Open winner Zixang Lei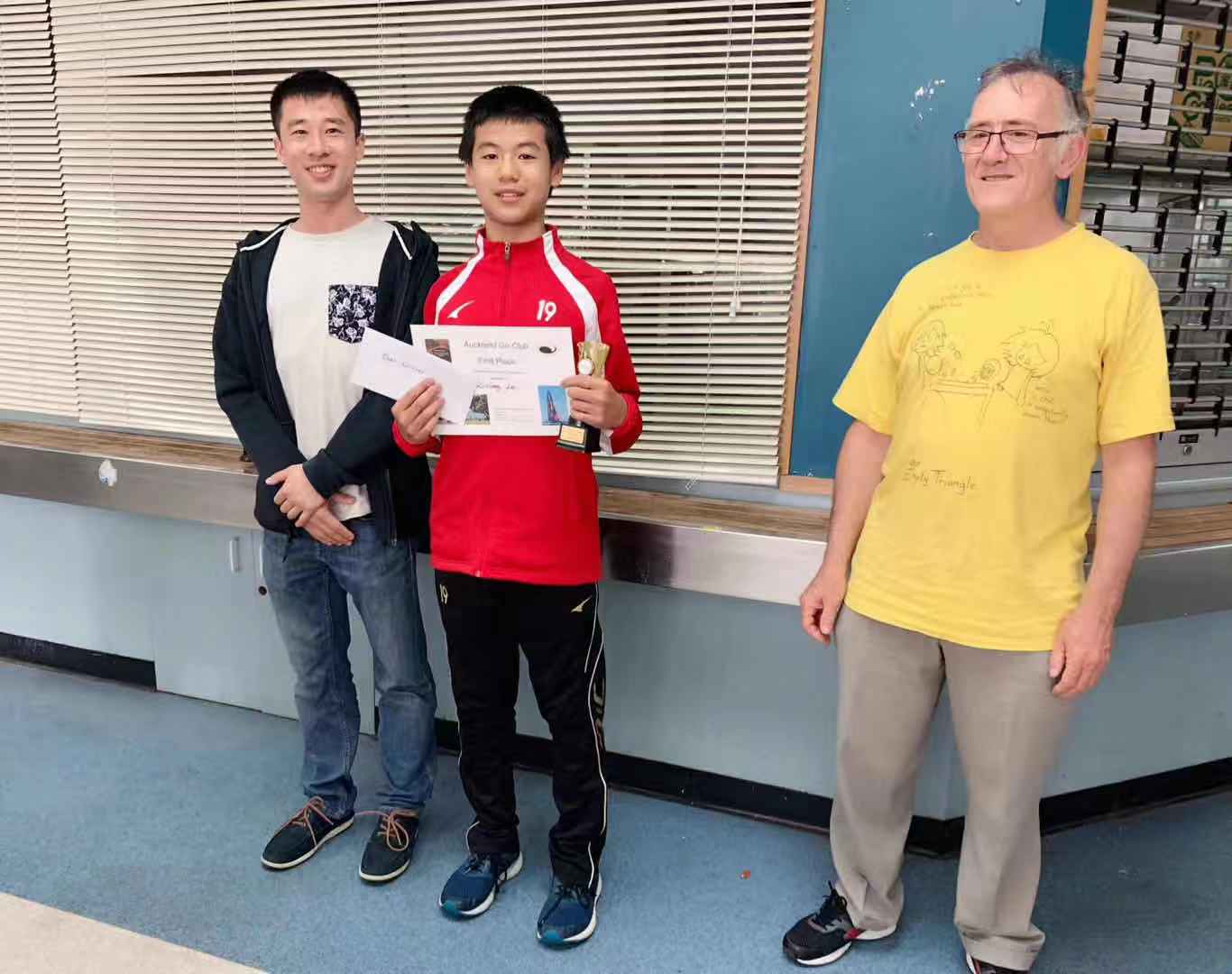 Division 2 Winner: Jae Kim
Division 3 winner: Eric Chen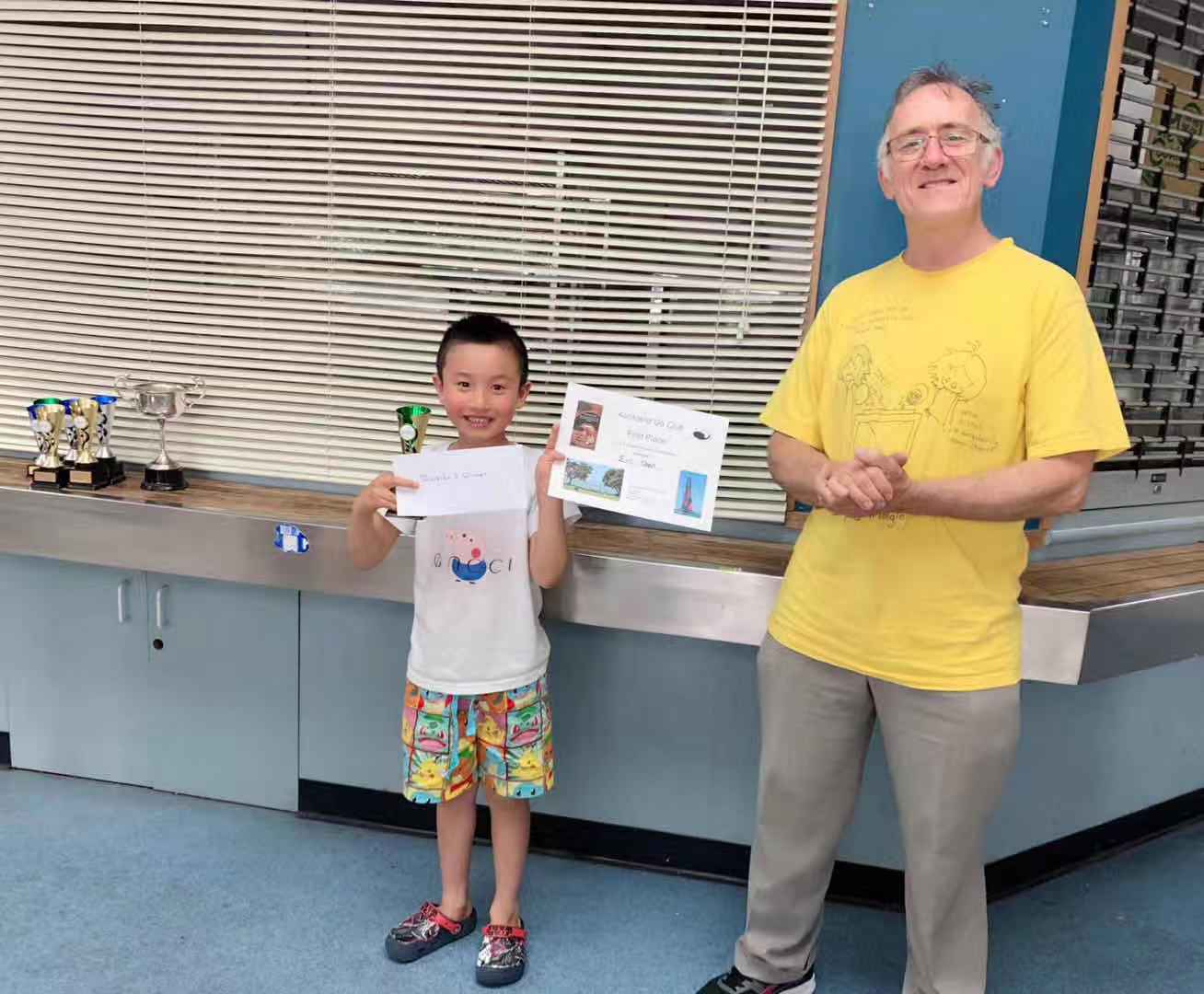 Second place. Du Gang (Open), Danny Zhou (Division 2) and Ziyao Wang (Division 3)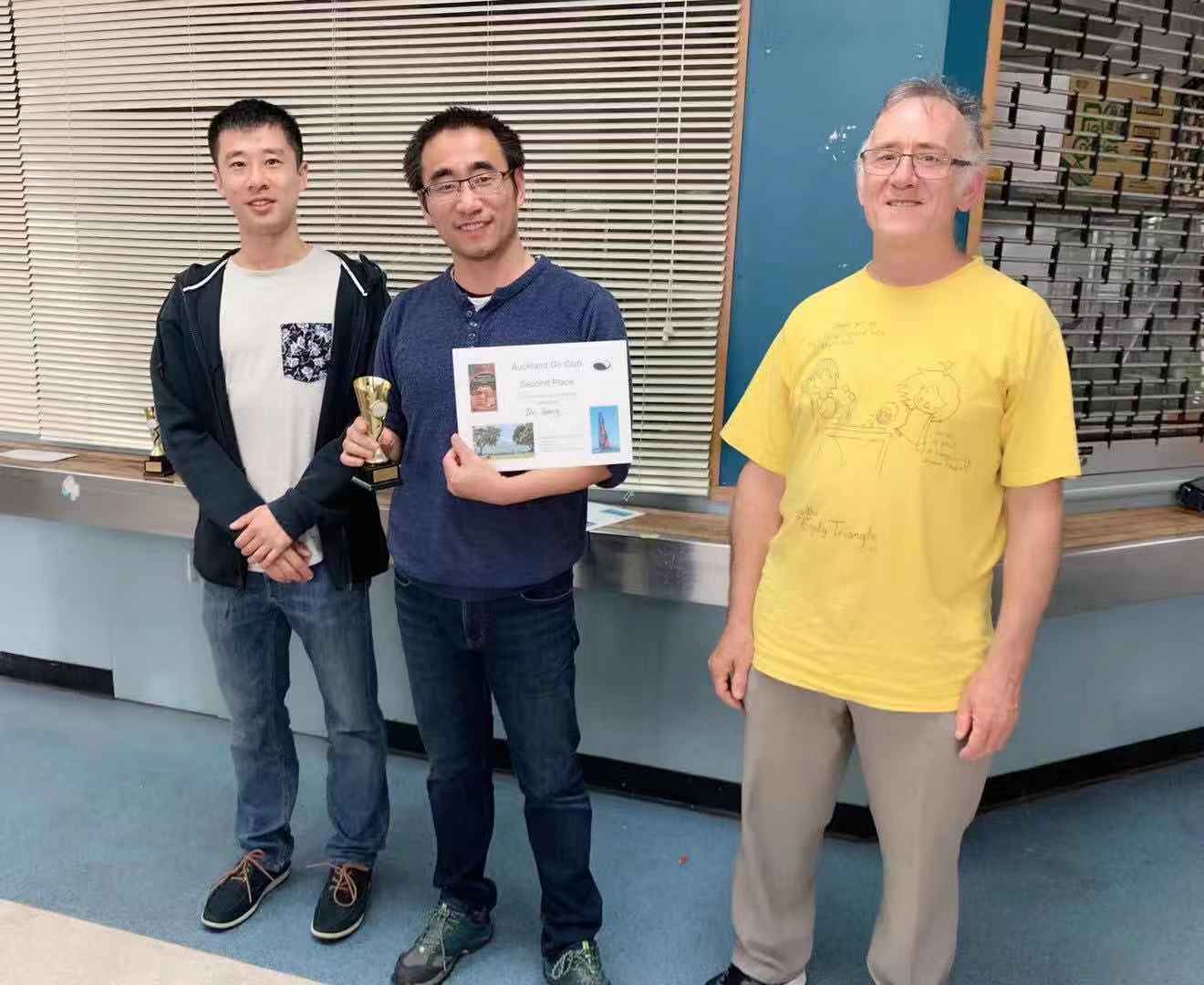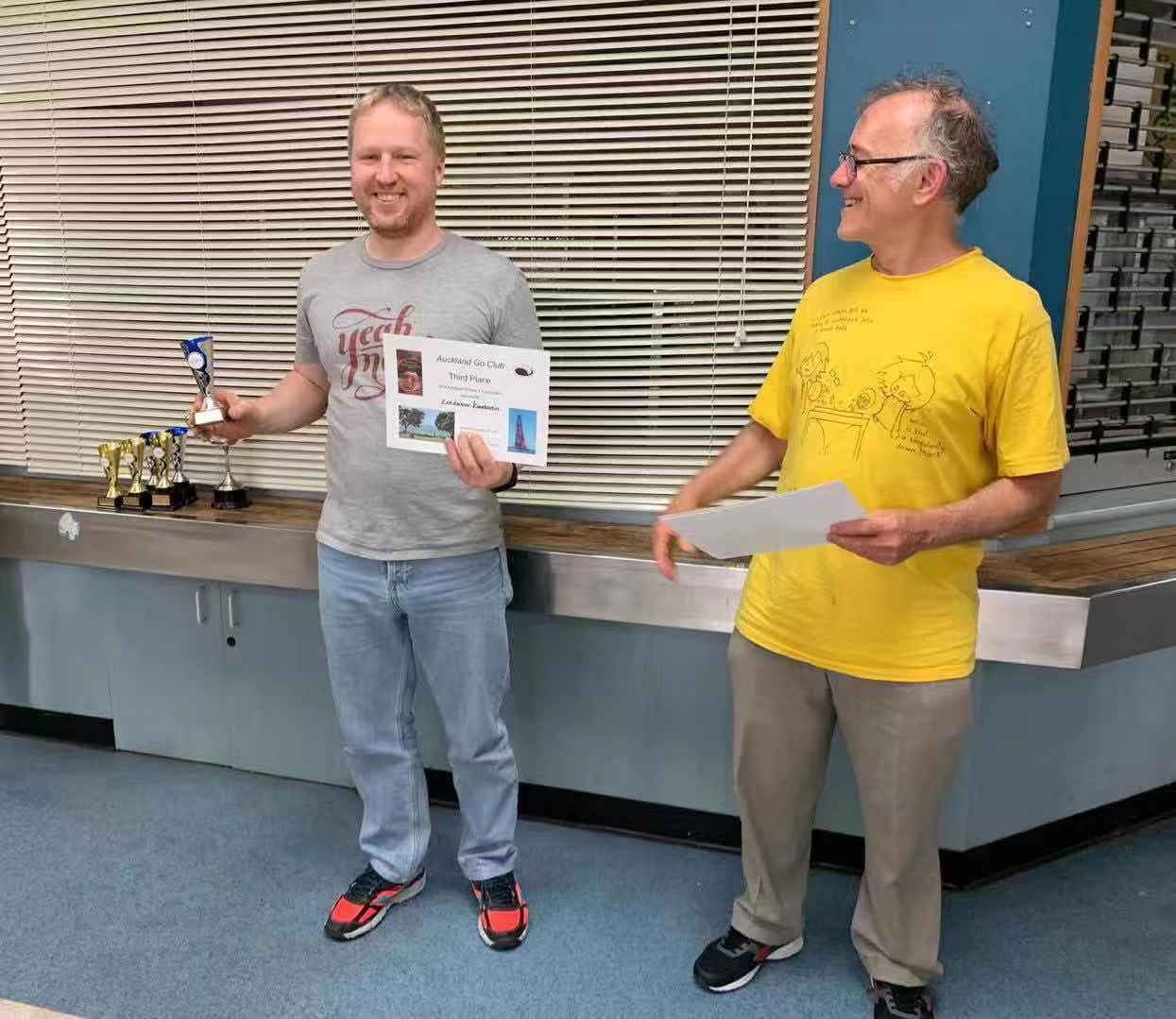 Third place. Moses Fang (Open), Konstantin Kondaurov (Division 2) and Jiayu Zhang (Division 3)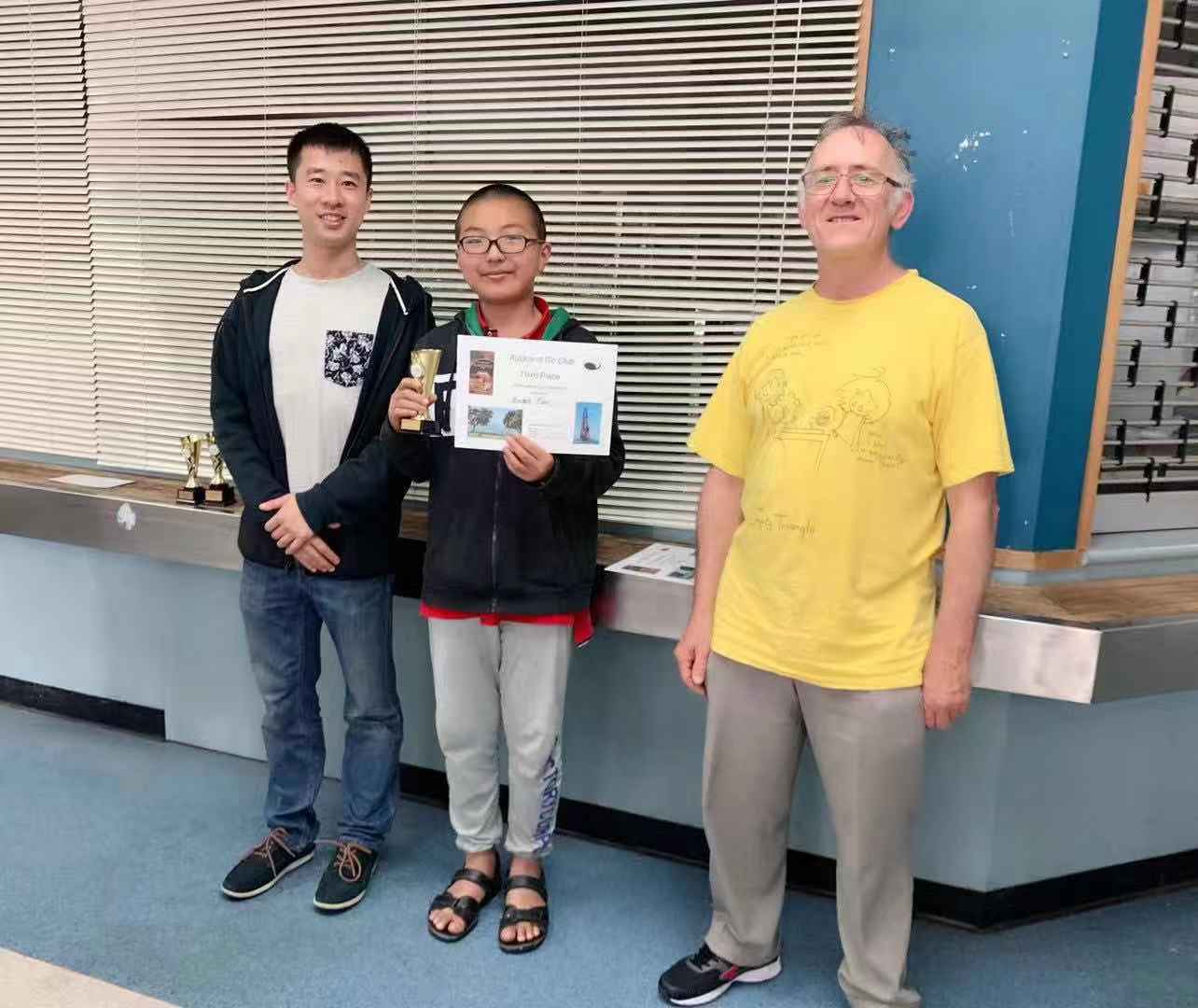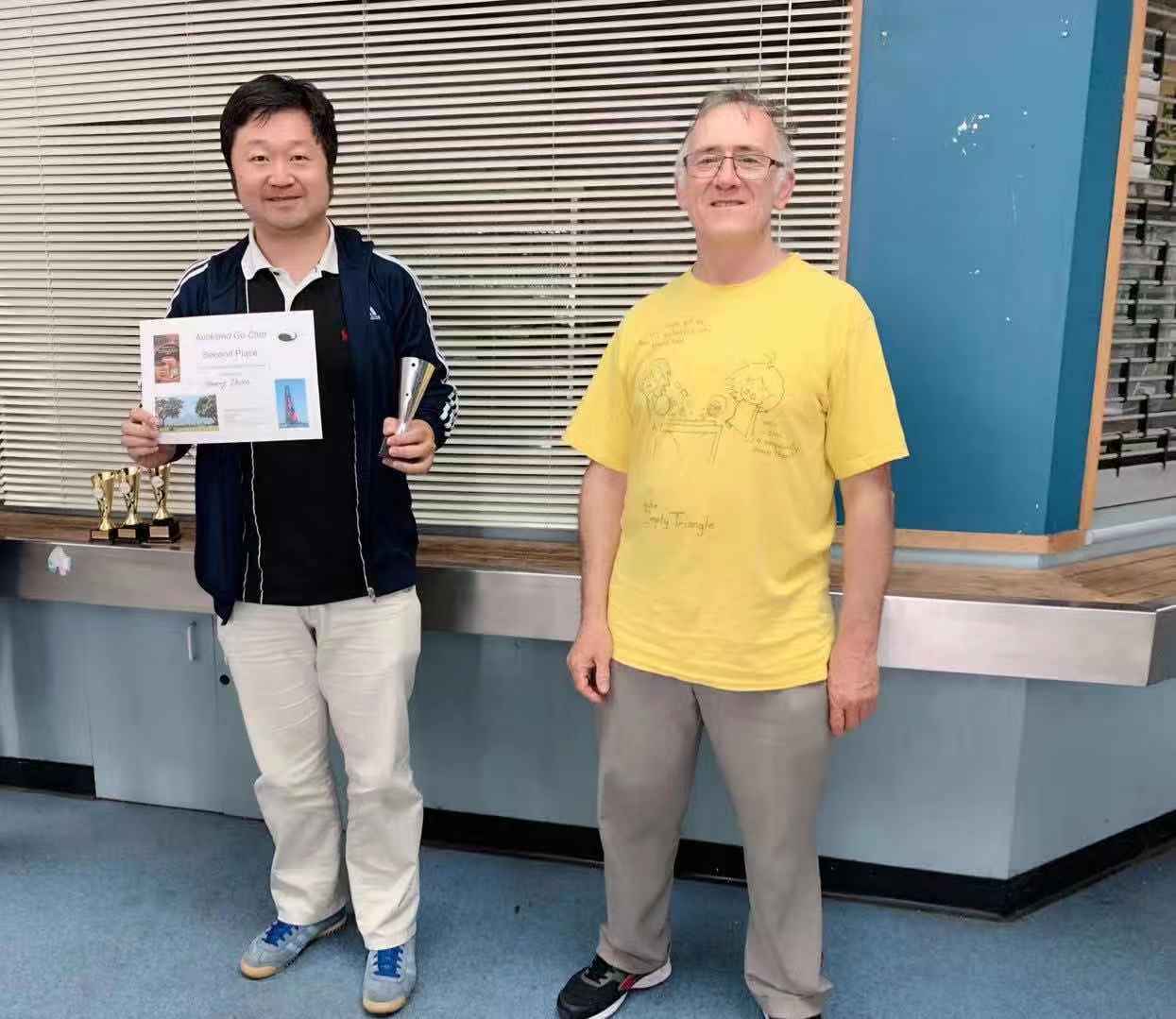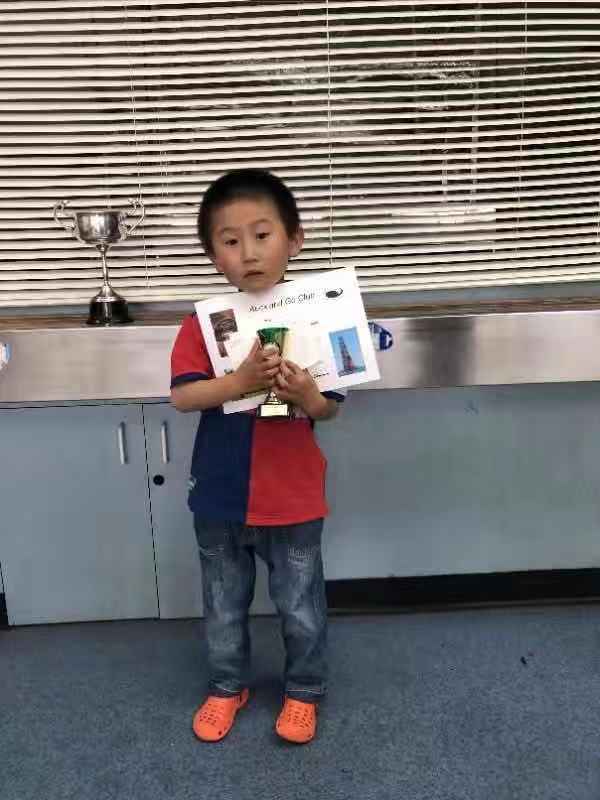 Thanks to everyone who helped make the tournament happen, particularly Danny Wu for providing the venue, Kevin Liu for doing much of the organisation, encouraging his students to play and running the beginner's tournament. Sylvain Gantois for organising and for catering. Lydia for finding the trophies and getting posters printed.
Results
Here is the full result table for the open division
| | | | | | | | | | |
| --- | --- | --- | --- | --- | --- | --- | --- | --- | --- |
| Result / Person | Rnd 1 | Rnd 2 | Rnd 3 | Rnd 4 | Rnd 5 | Rnd 6 | Rnd 7 | Wins | SOS |
| 1 Lei Zixang | 7+w | 3+b | 5+b | 2+w | 6+w | 4-b | 10+w | 6 | 31 |
| 2 Du Gang | 8+w | 4+b | 10+w | 1-b | 11+b | 3+w | 5+b | 6 | 30 |
| 3 Fan Moses | 11+w | 1-w | 9+b | 10+b | 5+w | 2-b | 6+w | 5 | 30 |
| 4 Wan Don | 12+b | 2-w | 6-w | 16+b | 14+w | 1+w | 7+b | 5 | 25 |
| 5 Zhang Wengang | 14+b | 6+w | 1-w | 11+w | 3-b | 8+b | 2-w | 4 | 30 |
| 6 Grierson Colin | 13+w | 5-b | 4+b | 7+w | 1-b | 12+w | 3-b | 4 | 28 |
| 7 Gantois Sylvain | 1-b | 8+w | 13+b | 6-b | bye+ | 9+w | 4-w | 4 | 25 |
| 8 Lin Weiran | 2-b | 7-b | 15+w | 13+w | 10+b | 5-w | 12+b | 4 | 22 |
| 9 Chen Fred | 10-b | 15+w | 3-w | 12+b | 13+b | 7-b | 11+w | 4 | 20 |
| 10 Du Shiyong | 9+w | 16+b | 2-b | 3-w | 8-w | 13+w | 1-b | 3 | 28 |
| 11 Zhu Jianming | 3-b | 12+w | 16+w | 5-b | 2-w | 14+b | 9-b | 3 | 24 |
| 12 Fan Xiayang | 4-w | 11-b | 14+b | 9-w | 15+b | 6-b | 8-w | 2 | 23 |
| 13 Guozhi Ivan | 6-b | 14+w | 7-w | 8-b | 9-w | 10-b | 15+w | 2 | 22 |
| 14 Wu Andy | 5-w | 13-b | 12-w | 15+b | 4-b | 11-w | bye+ | 2 | 17 |
| 15 Lu Yilin | 16-w | 9-b | 8-b | 14-w | 12-w | bye+ | 13-b | 1 | 15 |
| 16 Zhang Theodore | 15+b | 10-w | 11-b | 4-w | - | - | - | 1 | 12 |
Here is the result table for division 2
| | | | | | | | | | |
| --- | --- | --- | --- | --- | --- | --- | --- | --- | --- |
| Result / Person | Rnd 1 | Rnd 2 | Rnd 3 | Rnd 4 | Rnd 5 | Rnd 6 | Rnd 7 | Wins | SOS |
| 1 Jae Kim | 9+b | 2+b | 6+b | 5+b | 3+w | 8+w | 8+w | 7 | 19 |
| 2 Zhou Danny | 6+b | 1-w | 5+b | 3+w | 8+w | 7+w | 5+w | 6 | 25 |
| 3 Kondaurov K | 7+w | 9+w | 8+b | 2-b | 1-b | 5+b | 6+b | 5 | 23 |
| 4 Fuller Ted | 10+b | 7+w | 9+b | Bye+ | 5-b | 6-b | - | 4 | 9 |
| 5 Lu Oscar | 8+w | 6+w | 2-w | 1-w | 4+w | 3-w | 2-b | 3 | 32 |
| 6 Liang Daniel | 2-w | 5-b | 1-w | 8+w | 7+w | 4+w | 3-w | 3 | 29 |
| 7 Aida Chisato | 3-b | 4-b | 10+w | 9+b | 6-b | 2-b | Bye+ | 3 | 18 |
| 8 Wang Peiyi | 5-b | 10+w | 3-w | 6-b | 2-b | 1-b | 1-b | 1 | 31 |
| 9 Liu Louis | 1-w | 3-b | 4-w | 7-w | - | - | - | 0 | 19 |
| 10 Xue Tyler | 4-w | 8-b | 7-b | - | - | - | - | 0 | 8 |
Here is the result table for division 3
| | | | | | | | | | |
| --- | --- | --- | --- | --- | --- | --- | --- | --- | --- |
| Result / Person | Rnd 1 | Rnd 2 | Rnd 3 | Rnd 4 | Rnd 5 | Rnd 6 | Rnd 7 | Wins | SOS |
| 1 Chen Eric | 2+b | 17+b | 15+w | 8-w | 9+w | 3+w | 5+w | 6 | 25 |
| 2 Wang Ziyao | 1-w | 9+b | 3+b | 17+b | 8+w | 15+w | 4+w | 6 | 25 |
| 3 Zhang Jiayu | 8+b | 11+w | 2-w | 15+b | 17+b | 1-b | 10+w | 5 | 24 |
| 4 Li Doreen | 7-w | 13+b | 12+w | 14+b | Bye+ | 9+w | 2-b | 5 | 23 |
| 5 Wu Yudi | 10+w | 6-w | 9+w | 11+b | 15+b | 17+b | 1-b | 5 | 22 |
| 6 Li Lucas | 13+w | 5+b | 11-b | 12-w | 16+w | Bye+ | 8+b | 5 | 19 |
| 7 Cui Gary | 4+b | Bye+ | 16+b | 13-w | 14+b | 10-b | 12+b | 5 | 18 |
| 8 Pang Yuhao | 3-w | 15+b | 17+b | 1+b | 2-b | 11+w | 6-w | 4 | 27 |
| 9 Yang Aaron | 12+w | 2-w | 5-b | 10+b | 1-b | 4-b | 17+b | 3 | 28 |
| 10 Ma Mathew | 5-b | 12+b | 14+w | 9-w | 11-w | 7+w | 3-b | 3 | 27 |
| 11 Sun Grace | 16+b | 3-b | 6+w | 5-w | 10+b | 8-b | 15-w | 3 | 25 |
| 12 Wu Clair | 9-b | 10-w | 4-b | 6+b | 13+w | 16+w | 7-w | 3 | 25 |
| 13 Wang Ivy | 6-b | 4-w | Bye+ | 7+b | 12-b | 14-w | 16+w | 3 | 22 |
| 14 Baker An | Bye+ | 16+w | 10-b | 4-w | 7-w | 13+b | - | 3 | 17 |
| 15 Li Andy | 17+b | 8-w | 1-b | 3-w | 5-w | 2-b | 11+b | 2 | 29 |
| 16 Pan Darren | 11-w | 14-b | 7-w | Bye+ | 6-b | 12-b | 13-b | 1 | 22 |
| 17 Jiao Ethan | 15-w | 1-w | 8-w | 2-w | 3-w | 5-w | 9-w | 0 | 31 |